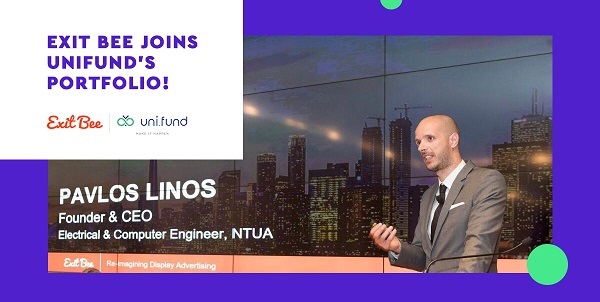 At Uni.Fund we are excited to announce our new investment in Exit Bee!
Exit Bee re-defines what's possible in display advertising and we call it Smart Exit Ads. Smart Exit Ads are a new, premium channel for advertisers and a new revenue stream for publishers.
Exit Bee's smart algorithms track, collect and analyze data, recognize visitor's exit intent on any device, and deliver the right message to the right user at the right time.
Smart Exit Ads outperform any other display advertising format achieving over 96% viewability and up to 40 times higher click-through rate compared to the avg. banner, while introducing new ad formats and unlimited creative options: full screen ads, boxed ads, contests, lead generation, video ads, surveys, content discovery/suggestions, multi-step campaigns, linked campaigns and more.
Smart Exit Ads are already being used by large advertisers across all industries (e.g., automotive, cosmetics, news media, banking, etc.) and by top publishers and media agencies in Greece, Cyprus, Bulgaria, Kenya and South Africa.
Uni.Fund's €350K Seed investment in Exit Bee will be used for product development, new hires and the company's expansion and growth in large markets, like the UK, Canada and the USA.
"In Uni.Fund we see a partner who "gets" our business and will be there for us to help us make the right decisions and take the right steps forward. Both being in the start of our journey we see an opportunity to grow together", says Pavlos Linos, CEO of Exit Bee.
Stelios Eliakis, Uni.Fund Partner, adds: "In Exit Bee's Smart Exit Ads we have identified the future of display advertising. While traditional display ads underperform, Exit Bee's solution offers spectacular performance results and has fast-growing potential in the global market. We are excited to collaborate with Exit Bee's exceptional team and eager to leverage Uni.Fund's expertise and network in the target market to Make It Happen!"