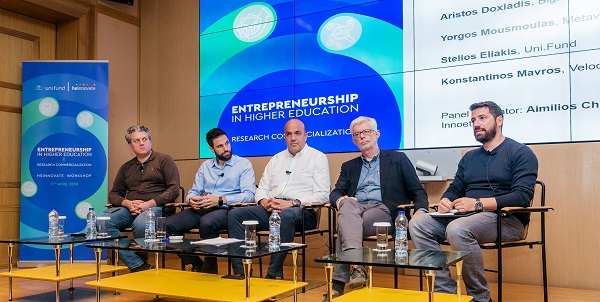 On Thursday, 11th April 2019, Uni.Fund organized the "Entrepreneurship in Higher Education and Research Commercialization" event, in collaboration with HEInnovate, a joined initiative of the European Commission and OECD. The event took place at Bodossakis Foundation Building and was kindly hosted by Eurobank.
The aim of the event was to present the current status, best practices and successful examples from the Greek research and entrepreneurial ecosystem and indicate how the HEInnovate tool can support Higher Education Institutions (HEI) in assessing and developing the entrepreneurial and innovative nature of their educational environment.
The morning session included presentations of the HEInnovate tool and other initiatives to support entrepreneurship and innovation in HEI in Europe by representatives of the European Commission and HEinnovate. In addition, examples of best practices applied by Greek Universities, Research Centers, Incubators and Accelerators, active in the Greek entrepreneurial ecosystem were presented. The morning session concluded with a panel discussion, in which representatives of the Funds of Equifund's Innovation Window shared their experience from the interaction with research teams of Greek Universities and Research Centers.
In the afternoon session, HEinnovate experts ran a workshop, exclusively for university representatives, in which the HEInnovate tool was thoroughly explored and mechanisms for collaboration and knowledge sharing among HEI were discussed.
To access the agenda of the event and speakers' presentations, click here.
The read the press release of the event, click here (press release available in Greek).