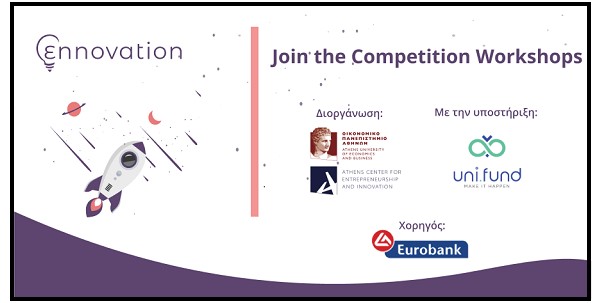 Uni.Fund supports the workshops organized by The Athens Center for Entrepreneurship and Innovation (ACEIn) in Greek Universities to inform potential applicants for the ennovation 2019 Competition. The aim of the workshops is to inform students and researchers of the respective Universities about the Competition and the application process, and present tools and initiatives in the entrepreneurial ecosystem that support the development and financing of innovative business ideas.
In this frame, Uni.Fund will present its funding activity and initiatives to support research commercialization and entrepreneurship in Higher Education Institutions. Students and research teams willing to meet us, can contact us at makeithappen@uni.fund.
The list of visits is available below:
National Technical University of Athens, Monday 27/5, 17.00 – 19.00
University of Piraeus, Tuesday 28/5, 15.00 – 17.00
University of Crete, Thursday 30/5, 17.00 – 19.00
More visits to be announced soon.