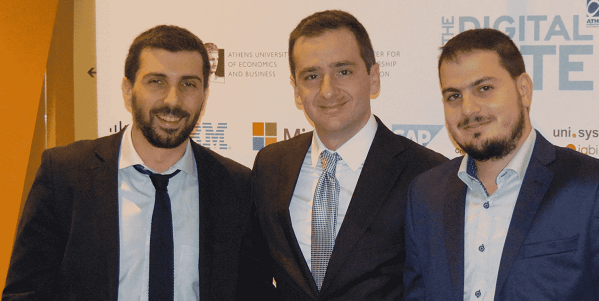 Tekmon started as a software development company working behind enterprise software identifying market gaps and now they're serving significant clients in Greece and beyond. Among them? The Athens International Airport and the London Underground! 
How did they make it happen?
Tekmon began its operations back in 2014 as a software development agency focusing on custom solutions for corporate clients in Greece. One of the first verticals they've dealt with was the emergency response in public gathering places and concerts by developing a mobile application through which doctors, security agencies, and organizers would be able to communicate and handle emergencies and other incidents.
Back then, they entered the Athens Center for Entrepreneurship and Innovation (AUEB's incubator) and that was the time when they faced the fact that there was a business there, but the market was not big enough in order to make a company viable and growing itself. Concerts in Greece are more alive during summer, contract negotiations with organizers have to take place every year and no recurring revenues can be secured that way. So, now what?
Well, here comes the time when they realized they needed to pivot… and pivot to where? Coming into the place where they had to identify the next business opportunity, two things had an impact on their decision; first, it was their company DNA – as they have been working from the very beginning with big organizations, they were able to underline other business opportunities – and, second, the incubator's coaching and open innovation actions that supported them towards this direction.
Through the Digital Gate, an open innovation program led by ACEin and the Athens International Airport, they started parameterizing their product to fit this vertical; AIA is a big organization that operates 24/7 during the year and has more complexities and safety issues. Thus, the technical part of the product had to change a bit. But, the thing that had to change the most was the business model that had to be transformed into a Software-as-a-Service (SaaS) solution that supported big incumbents in their operations and enabled recurring revenues.
Following the AIA, the next contracts came from AB Vassilopoulos, Fraport, TITAN, Lamda Development and other big incumbents, while during the last months due to COVID19, Tekmon is seeing a steep increase in demand for dedicated technologies that enable remote working, increase operational efficiency & improve emergency response. Organizations such as Piraeus Bank in Greece and Milan's Municipality "Cooperativa Le Macchine Celibi" in Italy swiftly adapted to their platform, to streamline their operations during this crisis.
The latest breaking news and their biggest success so far are that Tekmon has also secured a contract to provide a remote health & safety briefing and contact tracing solution to London Underground's track maintenance teams where up to 1500 individual workers will be using the solution every week. 
With this contract, Tekmon is entering a huge market backed by this name on their contract list and has now shifted into supporting deskless employees focusing on mobility by digitizing and automating the organizational procedures and tasks among employees. This market includes 2.5B deskless employees globally, while the market opportunity is underlined by the fact that 85% of them have no corporate email account and are currently underserved by technology.