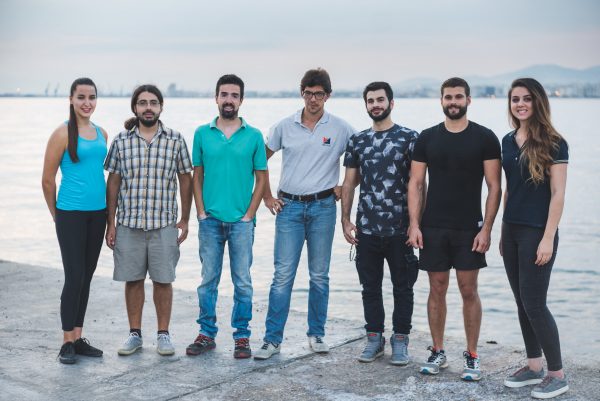 KInvent is one of our first investments back in 2018. The company was founded in 2017 by an engineering team in Thessaloniki, Greece, and a sales team in Montpellier, France.
Their mission is to empower sports and rehabilitation professionals with tools enabling rapid and objective assessment while making training and rehabilitation more efficient and fun.
KINVENT's groundbreaking innovations bring scientific laboratory tools into the clinic providing unparalleled efficiency in progress follow-up. They apply their philosophy in all sectors from sports injuries and physical performance to pediatrics, geriatrics, and rheumatology.
Athanase Kollias, the founder, answers our founders' questionnaire and sheds some light on his story. Let's go!
Why did you choose to become an entrepreneur? 
As an athlete of rugby and rowing, I was searching for new tools that would enhance my performance and help me in evaluating it. Time went by and I was not able to find the product I was searching for out in the market. And then…I decided to create it myself.
How did the idea come about?  
Playing as a child with my father's tools at his workshop and taking as an example his work in the evaluation of athletic performance was itself creating many ideas in my mind. Apart from that, being an athlete myself I had to deal with performance. And when it's about performance, injuries come often. As an engineer, I love data, and something that covers both was inexistent at the time.
How did the team come together?
Well, back when we started, we were just old friends that came together to realize something truly unique. Now, the team has grown up. We are based in two countries, Greece and France, and we are selling our products in around 20 countries around the globe.
What is innovative/ different about your product? 
We are the first company to be able to propose such a complete product that offers a centralized assessment of every functional capability of the human body. It's called KFORCE and, no matter whether I am objective or not, it's one of a kind.
What has been your most difficult challenge? 
I think this is a straightforward answer for most entrepreneurs. It's definitely selling the first device.
Biggest success/failure?
Again here it's straightforward for me. Our biggest success was selling to the French Football Federation and our biggest failure was losing the bid for the Monaco Team.
Most significant lesson learned? 
Never underestimate your competitors. We may be the first in the world to perform a full assessment of an athlete's functional performance, but we everyday aim at becoming better and better. The market is here, but here are the competitors, too. And they always have a look upon you.
What has been your most satisfying moment in business?
An easy answer once again. It was when Neymar's physio called me for help. I could have never imagined such a moment to come, and especially coming too early.
Who has been your greatest inspiration?
My dad. It's him that I have learned everything from, and it's him that gave me all these experiences early enough in order to start experimenting with hardware and athletic performance.
What business-related book has inspired you the most?
The mom's test, a tool on how you ask the right questions in order to receive the proper answers that will guide you through your product and business development. A book that every entrepreneur should read.