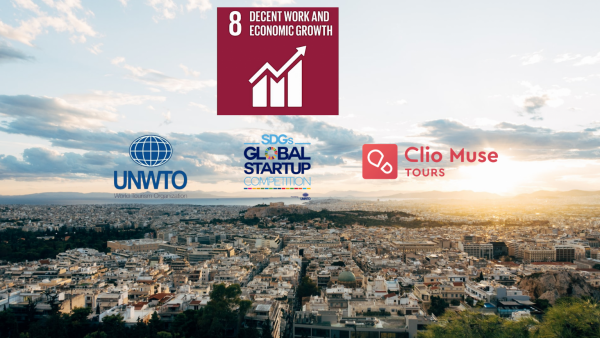 Clio Muse Tours has been selected as one of the 25 winners from 18 countries at the UNWTO SDGs Global Startup Competition for its widespread ability to contribute to the Sustainable Development Goals (SDGs). The innovative Greek startup was selected out of 10,000 initial proposals from all regions across the globe achieving a great place in a list of innovative entrepreneurs.
"The winners show the power of new ideas for transforming our sector", said UNWTO Secretary-General Zurab Pololikashvili adding that "by embracing innovation, we can realize this potential and build a better future for people and planet through tourism. I congratulate them all and look forward to seeing these startups grow and deliver positive change."
Specifically, Clio Muse Tours was selected for generating the greatest impact in the "Decent work and economic growth" category (SDG8). The reason why the company stood out among other similar solutions is mainly because of the company's robust business model that promotes sustainable practices and also empowers professionals in the tourism and culture industries. As Yiannis Nikolopoulos, CTO/COO in Clio Muse Tours stated earlier today "We are confident that we can replicate our successful business model in any country and help professionals in tourism and culture grow through the unlimited availability of self-guided audio tours and their upselling potential."
The company creates and sells audio tours to travelers on their own e-shop and through the world's online marketplaces and Online Travel Agencies. At the same time through its technological tools and platform Clio Muse assists professionals of the tourism and the cultural industries with B2B solutions to promote different aspects of our global cultural heritage to an international audience with low-cost customer acquisition strategies.
As a winner of the UNWTO SDGs Global Startup Competition, Clio Muse will be participating in guided mentorship programs from Amadeus, Google, IE University and FarCo, and tailored mentorship sessions from Mastercard and ClarkeModet. Moreover, winners are invited to take part in a pitching event, to be hosted by Wakalua within the framework of Spain's International Tourism Fair (FITUR) and at the Tourism Tech Adventures Forum, due to be held in Qatar in collaboration with Qatar Airways and Qatar National Tourism Council.
Finally, UNWTO gives winners access to the collaborators for the competition, opening the door for potential game-changing pilots and networking opportunities with Amazon Web Services, Globant, BBVA, the Inter-American Development Bank (IDB) and IDB Lab, Telefonica, Plug and Play, the Advanced Leadership Foundation, Impact Hub, mentorDay and the destination partners for the Competition.
"The take-off of post-Covid tourism is moving closer and closer. The implementation of many of the innovative solutions, which have been brought to us by entrepreneurs, from all over the world, will be part of this. The collaboration of institutions, governments and corporations will help host and scale-up many of these projects through the Wakalua Hub, to make tourism a much more sustainable, responsible and socially impactful sector, all with the support of the UNWTO," Lisandro Menu-Marque, Director-General of International Business Development for Globalia and Wakalua said.