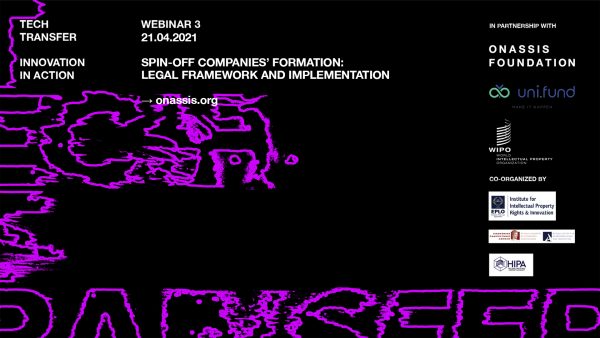 On Wednesday 21 April 2021 (17.00 – 18.30), Uni.Fund and Onassis Foundation are organizing the 3rd Webinar of the series of events on Tech Transfer.
The webinar is dedicated to "Spin-off companies' formation: Legal framework and implementation" and aims to introduce the existing framework for Spin-off's formed at Greek Universities and Research Centers, and the changes that are to be brought by the forthcoming Ministry of Development and Investments' law regarding Spin-off's.
The event will be at large focused on a Q&A session with the guest speakers. You could address your questions by filling up this form.
The detailed agenda of the event follows:

The event is open to the public, but registration is required. To register, click here.
In addition, on Thursday 22nd April 2021 the World Intellectual Property Organization (WIPO) in collaboration with Uni.Fund and Onassis Foundation organize a Regional Webinar on "SMEs, IP and resilience against the Covid-19 pandemic" to explore the ways in which IP contributes to the resilience of a company, and the positive impact it may have both in social and economic terms, contributing to the broader sustainability of business and societal ecosystems.
The agenda of the event and registration form is available here.
The events are made possible under the auspices of the Sectorial Scientific Council of Tech Transfer & IP, National Council for Research, Technology and Innovation, and are co-organized by the Athens Centre for Entrepreneurship and Innovation (ACEin) of the Athens University of Economics and Business, the Institute for Intellectual Property Rights and Innovation (IPR-I), the European Public Law Organization (EPLO), and the Hellenic Industrial Property Academy (HIPA).