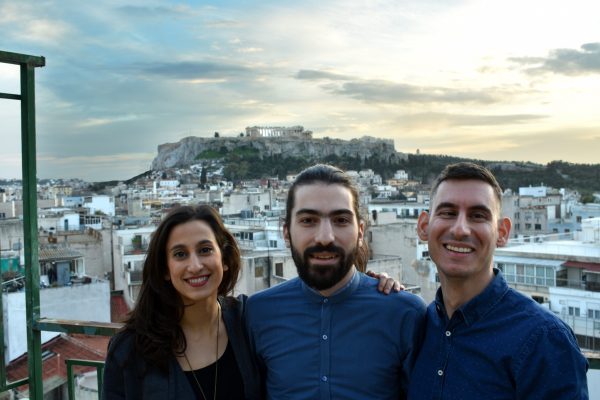 Founded in 2014, Clio Muse Tours has created over 300 self-guided audio tours for museums, outdoor landmarks and city walking tours in 11 countries including Greece, Italy, Spain and the Netherlands. The Athens-based startup will be releasing 100 new self-guided audio tours in 20 new destinations in Europe and beyond, reaching by the end of the year a total of 450 self-guided tours in more than 31 countries.
Clio Muse's self-guided tours are created based on a storytelling methodology that was developed over the course of two years (2012-2014) after extensive research in collaboration with world-renowned museums. The vision behind the award-winning storytelling methodology was to create high-quality self-guided audio tours that immerse modern-day travelers while at the same time highlight the cultural heritage and promote sustainable tourism.
In addition, through its cutting-edge platforms and technological tools such as the authoring tool CREATE, Clio Muse Tours enables culture and tourism workers to create their own digital tours gaining an additional income while at the same time promotε different aspects of the world's cultural heritage.
"We do not develop technology for the sake of technology, but to serve culture and humanity. With the delivery of a new project to a museum or cultural institution, a new relationship begins aiming to the effective promotion of its cultural reserve," says the company's co-founder and CEO, Andreas Fatouros adding that especially with the Covid-19 pandemic the company's mission to digitize culture got a larger meaning and purpose.
Since its foundation, Clio Muse Tours has collaborated with museums, cultural institutions and organizations in Greece and abroad developing custom platform solutions that contribute to the digitization of culture. At the same, the agile team has worked together with professionals of the tourism industry for the creation of digital tours that highlight different aspects of our cultural heritage.
Today, the company has a wide portfolio of tours with different themes such as history, architecture, dark tourism, gastronomy, road trips. And the list keeps growing.
Both the Clio Muse Tours' storytelling methodology and business plan have been awarded for their innovation and sustainability in numerous prestigious competitions in Greece and abroad.
The company's latest achievement and certainly one of the most important recognitions so far is its selection as one of the 25 winners from 18 countries at the United Nations World Tourism Organization (UNWTO) SDGs Global Startup Competition for its widespread ability to contribute to "Decent work and economic growth" goal (SDG8).
The reason why the company stood out among other similar solutions out of 10,000 initial proposals is mainly because of the company's robust business model that promotes sustainable practices and also empowers professionals in the tourism and culture sectors.
"Clio Muse Tours' authoring tool and Tour Experience is developed as Software as a Service. This enables third-party creators not only to write their own digital tours easily but also to edit and update the content effortlessly whenever necessary, explains the company's CTO and co-founder Yiannis Nikolopoulos.
This wasn't the first time though, that Clio Muse Tours had been awarded for its storytelling methodology and sustainable business plan. Noteworthy mentions are the GIST Catalyst Competition 2019, the Booking Cares Lab 2018 in Amsterdam, and The Athens Chamber of Tradesmen awards for Sustainable, Innovative and Responsible Entrepreneurship in 2018.
All tours are available on the Clio Muse Tours app for Android and iOS as well as on the company's official e-shop and are distributed via the world's leading online travel agencies.
"From day one, our aim was to connect the culture and tourism industries. With our award-winning business model, which we built step by step with the guidance of experts and mentors we believe we have reached our goal to a great extent. Museums are benefited from OTAS's international audience while OTAs add high-quality cultural content on their platforms created by museums. We're currently working hard to further enhance our initial business model," points out Daphne Tsevreni, Clio Muse Tours' co-founder and CFO.