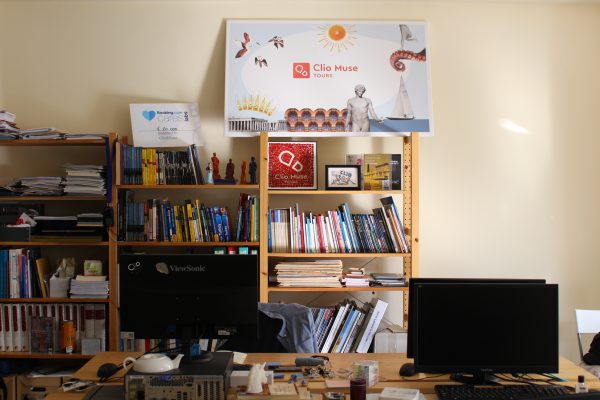 It is no wonder that the past year and a half has been the most challenging period for Clio Muse
Tours. The Covid-19 pandemic affected all sectors and in 2020 tourism suffered its worst year
on record. As a company operating in the travel industry, we were no exception. Today, we've
secured the future of our company but we never forget the lessons learned. Here is Clio Muse
Tours' response to Covid-19.
The first phase of the Covid-19 pandemic: March 2020 – September 2020
The first announcements about the pandemic, the lockdowns and the work-from-home policies
not only caught us by surprise but found us amid exciting upcoming collaborations. We were
ready to expand to new destinations, form new collaborations and grow the Clio Muse Tours
team. We were conducting interviews and we had just hired one new member. In less than a
month, everything changed. We were forced to cut down our team by 30%, we applied pay
reductions to all of our employees and temporary reduction of working hours. Of course, we
instantly adopted remote working – in fact, one week before the government announced that it is
mandatory- and tried to keep our daily routines.
We slowed down our plans for expansion and put on hold any new projects and cooperations.
Instead, we created 23 virtual tour experiences, the first ones we had ever made, in just two
weeks. Though this was a project on our pipeline for a while we hadn't moved forward since our
motto has always been to "bring people back to the museums." And until that time self-guided
audio tours were working just fine. During a lockdown though, the only way to stay true to our
vision was virtual tour experiences that combine images and our award-winning audio
narrations.
While all of these were happening, we were reforming our business plan and building our new
stronger strategy preparing for any unprecedented events.
Regaining our confidence: September 2020 – March 2021
Needless to say that the summer season 2020 looked nothing like the one in 2019 when we
served over 50,000 travelers multiplying our revenue by 12 times. However, by the beginning of
September, we were confident that Clio Muse Tours would keep operating and thriving. So on
the bright side, we had a relaxed summer after a long time and we took advantage of the slow-
moving season to upgrade our technology tools.
Autumn found us with several collaborations with cultural institutions and museums in Greece
and abroad. The Museum of Cycladic art worked with us for 4 digital tours for its permanent
collections, on the occasion of the bicentenary of the Greek War of Independence we were
already running several projects with the National Historical Museum, the General Consulate in
Munich and the Embassy of the Kingdom in the Netherlands in Greece and many more that
came over the course of time. We had decided to turn to the cultural sector with proposals that
would help the museums recover and stay relevant during the pandemic and it seemed that our
decision was paying back. Of course, we were still striving to minimize our expenses and we
were still cutting all non-essential costs.
Over these months the covid-19 pandemic didn't seem to decline and the uncertainty for this
year's summer season was still here. However, we decided to properly prepare for a super busy
tourist season just like we'd do in a covid-free world. We were following the predictions,
attended events in the tourism industry such as Arival, SETE and others and we were talking
with professionals of the industry. The numbers weren't very optimistic but we kept doing our
best.
We connected with even more online travel agencies expanding our network in the tourism
industry and made our products available on more marketplaces. We also expanded to new
destinations and according to our new business plan, by the end of 2021, we will have created
100 new self-guided audio tours in 20 countries reaching by the end of the year a total of 450
self-guided tours in 31 countries. All of these tours are developed based on our award-winning
content methodology but they are now enhanced with new features that aim to make the travel
experience even better. Among others, we added Educational Quiz games, formed new
partnerships with local guides in several countries in Europe and beyond and we carefully
picked the themes of our new tours following the trends in the tourism industry.
Finally, we upgraded our reservation system to automatically serve booking processes of audio
tours, virtual tour experiences and skip-the-line tours. Specifically, 96% of our bookings in May
2021 and 98% of our bookings in June 2021 were automatically served by Clio Muse Tours with
the minimum effort by the OTAs we collaborate with while also providing a high-quality service
to our customers. It is of great significance that this service enables travelers to easily and
effortlessly make last-minute bookings for museums and archaelogical sites.
By the second week of July, our sales had exceeded the predictions for June and July already
by 30%. Our efforts were already paying back. The fact that we are now feeling confident for the
future of Clio Muse Tours doesn't mean that we have forgotten the challenges of the past 15
months and while we are still learning from them, we can now definitely say that we have come
out stronger.